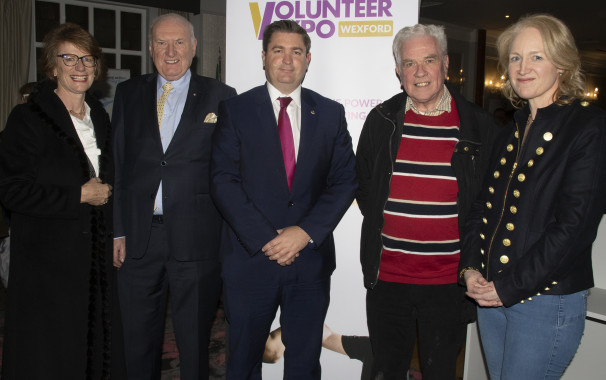 Volunteer Expo reflects spirit of giving in County Wexford
On Tuesday 28th January 2020, the community spirit which underpins life in County Wexford was on display during the county's first ever Volunteer Expo at the Talbot Hotel.
Over 40 volunteer led organisations were present at the event which saw an estimated 500 people in attendance. The brain child of Rotary President Karl Fitzpatrick, the expo was designed to assist local organisations in recruiting new volunteers to meet the growing demand for their services.
The success of the event was underlined by by Rob Walpole, from ALONE, who said" We have over 50 potential volunteers to meet over the coming weeks from this event." Ben Doyle of St Vincent De Paul was similarly enthused, " The Expo went above and beyond our expectations and we are thankful to The Rotary Club of Wexford for organizing such a community focused event."
One of the highlights of the Expo was provided by Fr Peter McVerrry, who spoke about his journey into volunteering. And, as a life-long advocate for many charitable causes, he emphasized what you get back from volunteering is always far greater than what you give.
Karl Fitzpatrick said "We are overwhelmed with the success of Volunteer Expo Wexford and the positive feedback we received from exhibitors and attendees illustrates that the spirit of volunteering continues to flourish across County Wexford. The Rotary Club of Wexford is delighted to have been in a position to continue to promote its ethos of service before self, through this event."