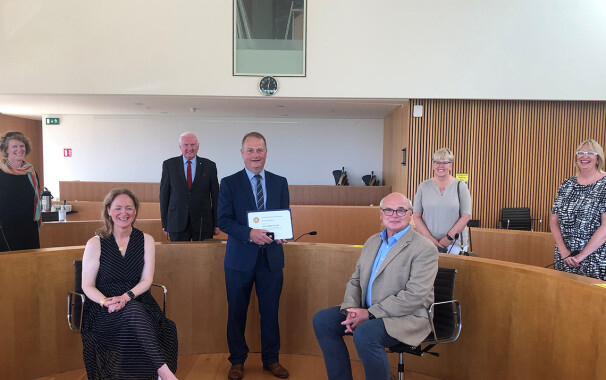 On Tuesday 20th July, The Rotary Club of Wexford, presented the Paul Harris Fellowship award, to Wexford Chief Executive / County Manager, Mr Tom Enright, in recognition of his outstanding service to the Community and contribution to the Rotary fellowship.
Other notable Paul Harris Fellows from around the world, include former U.S. President Jimmy Carter, U.S astronaut James Lovell and UN Secretary – General Javier Perez de Cuellar.
Paul Harris founded Rotary in 1905. Throughout his life Paul Harris exemplified the Rotary motto ' service above self '. Continuing his legacy, the Paul Harris Award is the highest award given in Rotary. It is given to a Rotarian or a member of the community that has made an outstanding contribution to the community.
In presenting the award, a former Rotary Club of Wexford President, Mr Thomas Huelswitt said
" The Paul Harris award is all about recognition for outstanding service to the community and contribution to the Rotary fellowship. The Club wanted foremost to honour Tom for the outstanding work he did and does in County Wexford for the long term benefits of the citizens of the County. In addition Tom contributed tremendously to the fellowship of the Rotary Club of Wexford  and he was previously recognised as a lifetime honorary member."
Current Rotary Club of Wexford President Ms Calodagh McCumiskey also spoke in glowing terms of Tom's outstanding contribution to the county and to the Rotary Club of Wexford.
In his acceptance speech, Tom Enright  said
" I am delighted to accept this award on behalf of the staff and Councillors and in particular those who work and have worked in partnership with the Rotary Club of Wexford on various initiatives and projects. There is a great team of people here in the Council with a real ambition to make County Wexford a better place for everyone.  He also spoke of the many very positive projects that have been achieved and that are in the pipeline for County Wexford."
Pictured with Tom Enright are Ms Calodagh McCumiskey Club President, Thomas Huelswitt, who made the presentation, Ms Helen Doyle Immediate past President, Mr David Power Vice President, Ms Heike Huelswitt Club member, Cllr Maura Bell former club President.