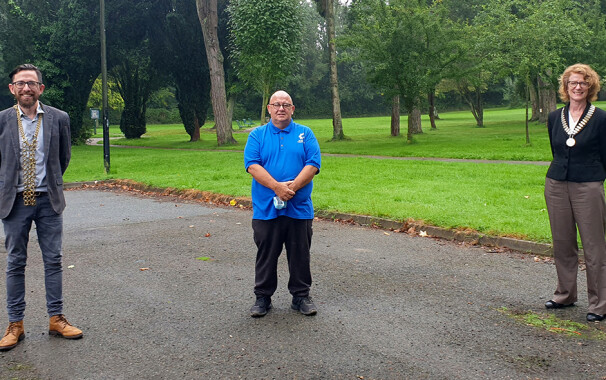 Wexford Mens' Shed put out a call for assistance in sourcing protective face shields and sanitiser for their members.
Mayor Leonard Kelly added his voice to the call, the shed is a cause that he champions and Niall Reck, Rotary member identified it as a need that our organisation would like to support. The Mens' Shed provides a valuable outlet for socialising and learning new skills to their members who benefit greatly from their club. While we were there, Martin Haughton their Chairman explained that they have in turn made a contribution to different ways to the community. For example, they have erected a Bug Hotel in Redmond Park and have renewed the bird boxes, they seem to be de facto custodians of the Park where they have their Shed.
The Wexford Rotary Club as a service organisation saw this as an opportunity  in our community to assist in a practical and meaningful way.
President Helen Doyle remarked on the hand over that we all need all the help we can both give and get in this time of Covid and the Rotary Club is examining how best to continue with it's projects such as Just One Life, Youth Leadership Competition, Christmas Hampers and Wexford Volunteer Expo.
On Wednesday afternoon in Redmond Park the Wexford Rotary Club presented PPE Gear to the Wexford Men's Shed.
Cllr Leonard Kelly Mayor of Wexford, Martin Haughton (Wexford  Men's Shed) and Helen Doyle Rotary President