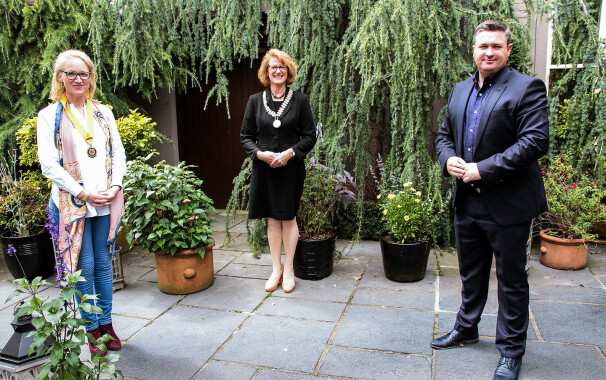 Helen Doyle, incoming President of the Rotary Club of Wexford
Helen Doyle, incoming President of the Rotary Club of Wexford has been a member of the club since 2003 and is honoured to be elected  as President of the club which celebrated it' s 40th anniversary last year.
She  has served as secretary of the club and vice president. Her aims as president are to strengthen the club membership and to promote the club's activities locally. Important projects of the Wexford Rotary Club include the Just One Life project for TY students, teaching them safe driving practices which has demonstrably reduced road traffic fatalities in the county. Many students in the county have participated in the Youth Leadership project, run annually by  the club and many deserving people have benefited from the Christmas hampers distributed by the club. The Rotary Foundation, the international arm of Rotary has End Polio Now as it's flagship project, supported by the club here in Wexford . The expertise of the Polio eradication programme was and is being used in the fight against Covid 19.
Helen is a solicitor , practising in Wexford  in the firm started by her father , Ted Doyle , one of the founding members of Wexford Rotary club. Her practice areas are in property, probate and wills, Enduring Powers of Attorney and litigation.
She recently obtained a Diploma in Judicial Studies, she is a trained mediator and  holds a Certificate in Trust and Estate Planning .
She served on the Board of Wexford Festival Opera up the time of the completion of the ( now) National Opera House and is a keen supporter of the Festival and opera goer.  She is a member of Wexford Festival Singers and past Chairperson of that choir and also sings with choirs in New Ross and Waterford. Helen is on the board of Windmill Therapeutic Training Unit , a voluntary body providing support services to adults with mental disabilities. Other interests are in architecture, having recently completed a certificate course in Country House Studies at Carlow IT at it's Wexford campus, and in the environment, having completed her primary degree in Natural Sciences in Trinity College and is a member of the Wexford Garden Club.