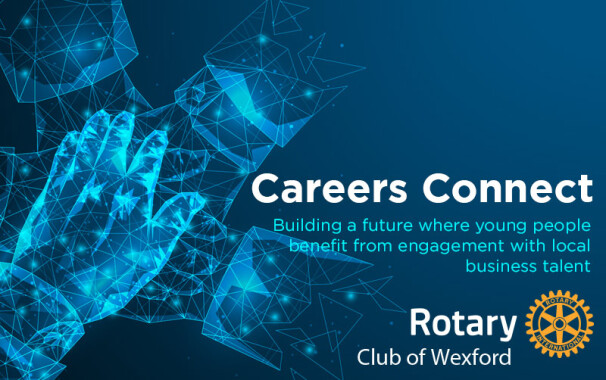 "Building a future where young people benefit from engagement with local business talent"
A Rotary Club of Wexford Initiative
Providing speakers to Wexford Post Primary schools
Transition Year | Leaving Cert Cycle
Our mission is to connect schools with businesses and business people from Wexford and beyond through providing speakers. Our business partners are from a diverse range of backgrounds. Their experiences, knowledge and organisations seek to inform, educate, inspire and provide insight into the business environment and career paths and help students to successfully prepare for the modern world and find a career path that excites and suits them.
Launched in April 2021, four talks took place in May before the end of the 2020/2021 school year. A variety of topics were covered and the feedback from both students and teachers was very positive. All schools rated their talk as "Extremely Valuable" in surveys conducted after each talk.
Praise for initiative
"Excellent project, thank you so much to you all."
"Thank you! Excellent initiative."
"Superb initiative – sincere thanks! Niall was superb. I have already passed on the details of Careers Connect to my other TY coordinators. Niall was just perfect and addressed exactly what we need for our LCVP and LCA senior students."
---
Topics covered include (initial talks):
Management & Leadership
Entrepreneurship & Innovation
Financial Services & Banking
Legal
Sales & Business Development
Digital Marketing
Motivation
Life Experiences – Lessons Learned
CV Workshop, Interview Skills and Workplace Etiquette
Conduct & Culture in the Workplace
Diversity & Inclusion
Wellbeing
Apprenticeships
*Topics subject to change and speaker availability
Talks can be conducted in-person or online | Approximately 45 minutes duration
About Rotary Wexford
Rotary Club of Wexford members use their expertise for the greater good. Their sense of responsibility inspires them to give back to their communities. Rotary seeks to empower youth, improve health, promote peace, and advance our communities in all corners of the globe.
Speakers