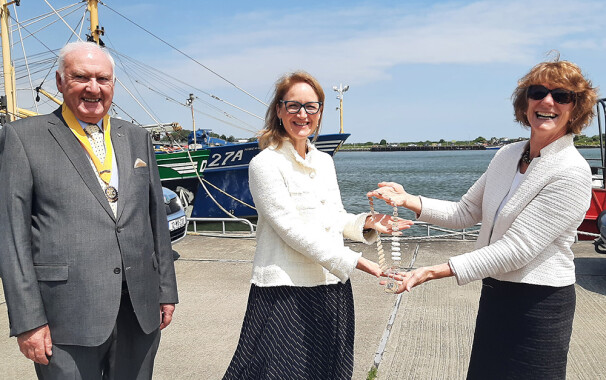 Today we welcome our new president Calodagh McCumiskey, The handing over of the chains was held on the Wexford Quay Front, Helen Doyle is the immediate Past President and David Power the Vice-President of the Rotary Club of Wexford.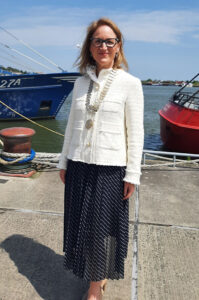 Calodagh said  'COVID has challenged people on so many levels.  It has affected everyone in a different way – posing new and often complicated problems for each person.  Rotary's mission to: 'provide service to others, promote integrity, and advance world understanding, goodwill, and peace' is as relevant today as when it was started 110 years ago.'
'During my presidency, one priority is to reinvigorate activities for our members when restrictions permit.   Regular zoom and occasional out-door coffee meetings continued during the last 16 months, but we are hopeful we can resume in person meetings as soon as September.'
'Although some of our projects could not continue, we managed to start one new project during the year, 'Careers Connect', which involves giving talks to secondary school students about different career paths.   The pilot went very well and we are planning to expand it to all secondary schools in County Wexford that want to participate from September with a particular focus on Deis Schools.  If schools are interested in participating, they can get in touch with us.'
Born in Dublin, she spent some of her childhood years in Bahrain in the Middle-East, sparking a lifelong interest in people, culture, travel and a humanitarian career.    Following in the footsteps of her parents who moved to Wexford in 1995, Calodagh moved to Wexford in 2008.  Prior to her current work in the area of Wellbeing with Spiritual Earth, Calodagh worked as an aid worker for 14 years in Africa and Asia, helping people get their lives back on track after natural and man-made disasters.  During her time in India, she first encountered Rotary through their polio programme.  On discovering a Rotary Club in Wexford on her return to Ireland, she immediately wanted to join.
The Rotary Club of Wexford currently has five other projects all of which we expect to continue over the coming year. They may be adapted or with smaller numbers, but we expect them to run in some form – through in person events, online communication platforms like Zoom or a combination.  The Rotary Club of Wexford has approximately 40 members. Other projects include, Just One Life, The Wexford Volunteer Expo, The Youth Leadership Development Competition for secondary schools, The Bikes for Africa project and Christmas Hampers with St Vincent de Paul which is supported by many generous Wexford businesses.