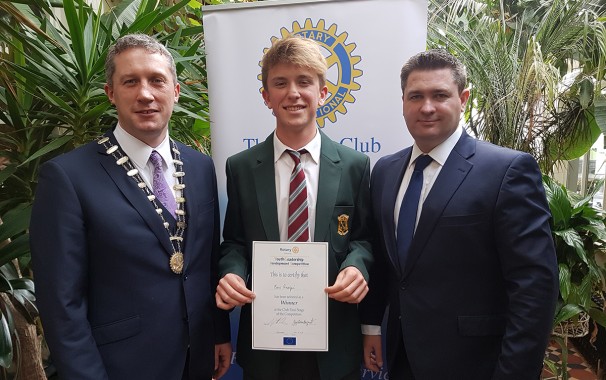 An annual event, the aim of this competition is to help young people prepare for their future careers through emphasis on leadership, citizenship and personal development.  The competition is open to any qualifying citizen of an EU/state living on the island of Ireland who must be under 18 years of age in March of the following year.
This year Members of  Rotary Wexford interviewed transition year students in their schools and short listed ??? for the final Club Interview which took place at the Riverbank House Hotel, Wexford, on
The interview panel consisted of Club Rotarians and interviews concentrated on personal achievements and leadership skills.  The interview panel was very impressed with the high standards of all of the young people who presented themselves for interview.  After a long deliberation, Eoin Pinaqui, a pupil at St Peters College, Wexford, was announced as  our Regional Finalist.
Eoin was then interviewed as part of the process to represent this zone in the Irish Rotary/Euroscola Group in Strasbourg next year and again success came his way.  Congratulations to Eoin, he did is school, his family, our Club an himself proud.  He will no doubt be an excellent ambassador for Irish youth in Strasbourg and we look forward to hearing him speak of his experience at one of our Club meetings next year.
Rotary Wexford is delighted to be able to support this project and already is planning the 2017 competition.