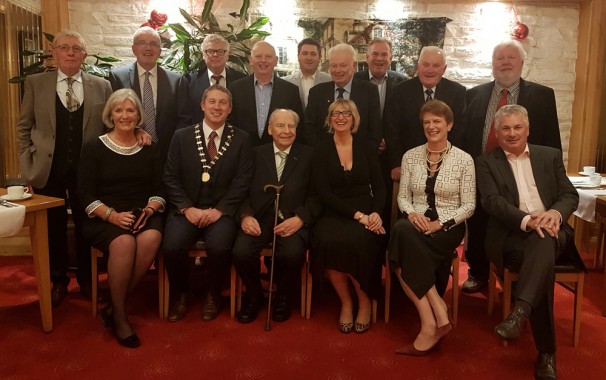 Rotary Wexford's Annual Club Christmas Dinner Party  took place on Friday, 2nd December in the Talbot Wexford.  Attended by Club Members, their spouses/partners and invited guests, it proved to be a great evening of seasonal merriment, excellent food and drink, wonderful entertainment and lots of good after dinner stories.
Niall Reck, President of Wexford Rotary, speaking after dinner said " I will shortly be approaching the halfway stage of my term as President of the Rotary Club of Wexford.  It has been and will continue to be an honour to serve as your President and thank you for all the support you have given me over the past months.  It is at this special time of the year that you fully appreciate just how much time and energy my fellow Rotarians are prepared to give to help people who are less fortunate or are in need of extra support.   This is very much appreciated."
Niall also mentioned some of our own members who have not been in the best of health over the past few months, or who have somebody in their family who is not so well.  "I am sure, like me, you will be delighted to see them returning to good health in the New Year."
Jurgen Sassman, Hon Sec of Rotary Wexford, also addressed the Rotarians.  He commented on the success of the Club under the watchful eye of Niall and drew our attention to the wonderful website and much improved social media platform of Wexford Rotary, something that has been driven by Niall through his company Graphedia.com here in Wexford. Jurgen, aided and abetted  by Maura Bell, currently VP of our Club, then presented Niall with a prestigious Paul Harris Fellowship Award.  Rotarians have a tradition of honouring individuals who have made significant contributions towards the wellbeing of their Club.  Niall has certainly earned this accolade.  Hearty congratulations on this Award came Niall's way – very well deserved!!
On behalf of his wife Sarah and himself Niall said "I look forward to your continuing support in the New Year and in the meantime we would like to wish you and your families our very best wishes for a very merry and enjoyable Christmas and a most happy, healthy and peaceful 2017.