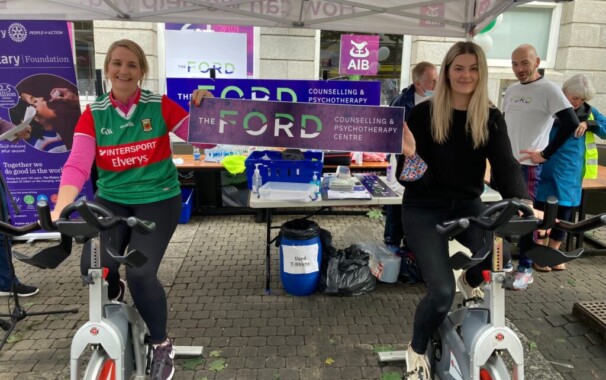 On September 17th The Rotary Club of Wexford members were delighted to support Bikeathon in aid of The Ford Counselling and Psychotherapy Centre.
The centre has supported the people of Wexford for over 30 years with affordable counselling. A service that is very much in demand pre and post covid and waiting lists are growing putting huge demand on the centre. Rotarian Maree Lyng and team at AIB Wexford hosted the event and Maree and Natasha Hughes were part of the fundraising committee. Eamonn Buttle and team at South East Radio provided great coverage on lead up to the Bikeathon with interviews on what the service does and also running ads promoting the event. Maura Bell kindly donated time on the buckets and participated in an interview with South East radio promoting services. Previous Rotarian President Helen Doyle and Natasha Hughes cycled as part of the Bikeathon. A number of Rotarians turned up on the day to show their support. The Bikeathon was a huge success despite the wet morning with many local councillors, sports stars and business people cycling to help fund the Ford.
Final amount raised has yet to be announced but has exceeded €10,000.
A real-life example of Rotarians in action giving back to the community
Donations can still be made through the Go Fund Me Page https://gofund.me/b76ae330
If anyone requires services from the Ford centre details available here The Ford Counselling and Psychotherapy Centre | Wexford