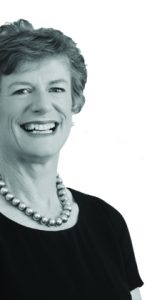 Helen Doyle
Principal - Doyles Solicitors Wexford
The work of the lawyer has many aspects, one is to advise and facilitate business and property transactions, another is to assist in dealing with a person's properties, particularly on death and advising on taxes, another is working in court, either in the criminal court or the civil court.
Some lawyers choose to work solely in the courts, in litigation. Some work "in house", that is employed by a company where the work can either be very specialised and to do with the company business such as aircraft leasing or finance. Work In-house can also be very varied and include employment law, property, licensing and contract law.
Working in general practice in Wexford town, Helen is concerned mainly with the area of property and the administration of deceased estates and related areas such as drawing up wills and enduring powers of attorney. Her work also includes family law, advising on marriage separation and divorce and the rights of the parties and children.
The most usual training to become a solicitor is a degree and attendance at the Law Society School,which includes a period of traineeship in the office of a law firm.
As well as needing a knowledge of the law and how to apply it, a solicitor needs to have empathy and good interpersonal skills, as the work comes from people looking for advice , usually at a time of stress or while going through an important time or transaction. Also the solicitor is working as part of a team being their own office colleagues and often other advisors. A solicitor in private practice is also running a business themselves.
Helen is a member of the Solicitors Disciplinary Tribunal and now also the Legal Practitioners Disciplinary Tribunal.
Her professional memberships are the Law Society and the Institute of Taxation in Ireland. Helen has a degree in Natural Science (Botany) from Trinity College, Dublin, a Diploma in Legal Studies and Diploma in Estates and Taxation.
Helen is a Board member of Windmill Therapeutic CLG and of Local Link Wexford CLG, Wexford Chamber of Commerce and in the past was a board member of Wexford Festival Opera, the Ros Tapestry and was a member of the Advisory Committee of the Ireland Funds.