The Sassmannshausen Award
The award is named for Jurgen Sassmannshausen, founding member of Wexford Rotary Club since 1979.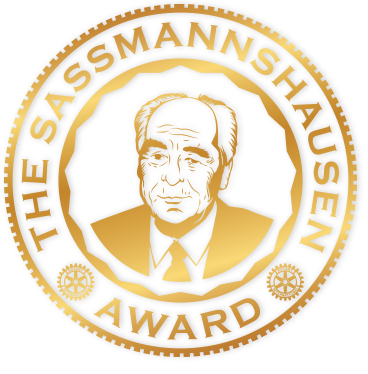 The award is to be made at the discretion of the President of Wexford Rotary Club at the time to an outstanding individual who has been involved in community service. The candidate will have demonstrated a sustained commitment to their community through which the quality of life of the community has been enhanced.
The award is to recognise any person, not a member of a Rotary Club, who epitomises the objects of Rotary. The principal object of Rotary is that of service. Rotarians display high ethical standards in their business, personal and community life. Internationally, the Rotary Organisation is involved in the advancement of understanding, good will and peace through a world fellowship of business and personal persons united in the ideal of service.
The person selected will have been involved in projects compatible with Rotary objectives such as local economic and/or community development, improving education and literacy, child health and welfare, the provision of water and sanitation, the prevention and treatment of disease and peace and conflict prevention and resolution.
The award will be based on cultural, educational, humanitarian, environmental or conservation service activities.
The activity must be voluntary.
The selection of the candidate will be without discrimination and the award will be non- political and non-sectarian.
The nomination process and selection of a candidate will be by a sub-committee selected by the President for the time being.