JUST ONE LIFE!
Rotary Young Persons Driver Awareness Programme
The Rotary Club of Wexford and Wexford County Council have joined forces in an award winning unique road safety initiative aimed at students and young people that is very much community based.
The objective of the Just One Life programme is to save young drivers lives.  This is done by demonstrating the common causes of accidents to 15-17 year old students in a practical manner which they can understand.
This is a "shock and awe" approach.
In a hard hitting "no holds-barred" presentation students witness a series of shocking interactive videos and presentations.
 The students are given the opportunity to experience driving difficulties first hand, as they participate as passengers in a vehicle emergency stop procedure performed by trained members of the Garda Siochana.
The Just One Life programme emphasises the stark realities and often-tragic results of inappropriate driving behaviours. Students are told that most of them will be involved in a serious accident at some stage in their lives, that they may kill or be killed while in a vehicle on the roads. It provides much needed food-for-thought for these drivers of the future, and seeks to influence the choices they will make as young drivers, in the age group accepted as being most at risk of having a serious traffic collision.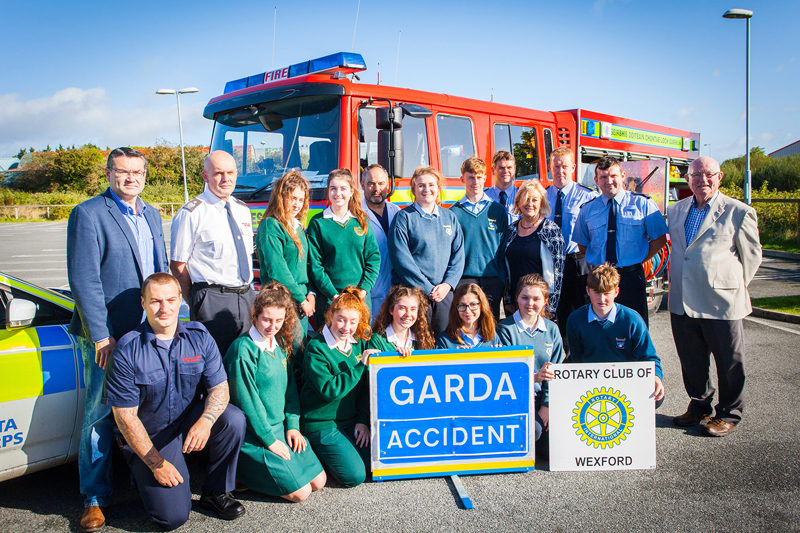 What have these students in common:
They are all about to become drivers
They are thinking of acquiring their first car
They are considering insurance for that car or the cost of insurance on a parent's car
Most of them will be involved in a serious car accident at some stage in their lives
Some of them might be killed or will kill.
Just 1 Life 2016-2017 Wexford's Programme
The dates for this years Wexford's programme are set out below. Any Rotarian contemplating running this District initiative in their own Club and wishing to attend one of the sessions as an observer should contact Mike Brand on 087 6387370 or mikebrand@eircom.net to check for availability and details.
•    Thursday September 29th.
•    Thursday October 20th.
•    Thursday November 24th.
•    Thursday January 26th.
•    Thursday February 16th.
•    Thursday March 23rd.
History
Just One Life was initiated by the Rotary Club of Wexford.  A sister Rotary club in Sydney, Australia started the project in their area in 2000 following the tragic death of the children of some of their club members. Since the project has been extended across Australia and by the end of 2012 some 150,000 teenagers have participated in their programme across the whole of Australia and New Zealand. There is definite evidence that the programme has reduced road deaths and accidents in Australia. Therefore this project is tried, tested and proven to produce results.
The Rotary Club of Balkham Hills in Sydney brought the project to the Rotary Club of Wexford and the Wexford County Council and both organisations took on the project with enthusiasm. (The County of Balkham Hills, North Sydney is twined with County Wexford). Project co-ordinator Mike Brand comments that when a project this good and important lands on your lap you cannot ignore it.  Rotary are indebted to Wexford County Council and the Gardai who embraced the project.  Sheridan Insurance, the HSE, the Wexford Fire Service, Mental Health Ireland and J.J.Byrne Citroen also support it.
The Programme
Now in its 6th. year, the programme is delivered to all 21 second level schools in the County and to date 8,000+ students have completed it. Key to this success is the venue- Wexford Youths Football Complex- where not only facilities exist to present sessions but the very large car park and private approach road allows for road demonstrations. We are beholden to them.
The day from 9.30 am to 3.00 pm has 6 sessions which include;
Presentation on Hazard perception and results – Garda Siochana.
A road Demo with Garda drivers in cars provided by J.J. Byrne Car Sales
An interactive Car Safety an Design Issues – Sheridan Insurances
Presentation by the Wexford County Fire Service
Peer Pressure- Mental Health Ireland
Accidents do happen- Consultant A&E Wexford General Hospital and staff.
The programme has been designed to be low or nil cost. The only cost to the schools is the transport of students to and from the venue and to provide adequate teacher supervision. Students bring packed lunches (although currently Wexford County Council provide a bowl of soup) and all other involvements are non-cost.
The programme has been observed by the National Road Safety Authority, Police Service of Northern Ireland, Wicklow County Council, Students Union of UCD, The Rotary clubs of Dublin, Cork, Banbridge, Clonmel, and Monaghan.
The programme has been undertaken by other Rotary Clubs and The Rotary Clubs of Clonmel, Cork and Monaghan have already successfully completed their first session.
The now retired Wexford County Manager, Mr Eddie Breen, summed up the simple message of the programme:  "If just one life can be saved, if just one young person's attitude can be influenced to make that person a safer and more responsible driver, then what a wonderful result that will be from this initiative".
Recent Developments
The school year 2013-2014, however, has brought about changes in the programme.  Some presenters have said that they do not have the resources in the current economic climate to support 13 sessions needed in the past to accommodate all 21 secondary schools in the county.  This coupled with the increased number of pupils in the target age (up to 1500 from 1200) has meant that changes had to be made.  The number of sessions has been reduced to 6 and a new venue – the Omniplex Cinema – in Wexford town has been secured  by the County Council which can accommodate over 260 students at a time.  However, the venue is only available for the morning and so the programme has been worked to suit the site and the timetable now running from 9.30 to 13.15.
The new set up appears to be very successful where the loss of some of the hands on experience has been compensated by the large screen and surround sound increasing the impact of the video clips.
Has it been successful
We cannot ever be sure but Students fill in a post programme evaluation form which shows that it is well received and that they understand the messages delivered.
One teacher who has been with the programme from the start stated 'that he had been teaching for 27 years and had been to 23 pupil funerals. In the past 6 since his students have been involved he has not been to one'
For those wishing to be involved or for further information contact:
Mike Brand,
087 6387370
053 9144391