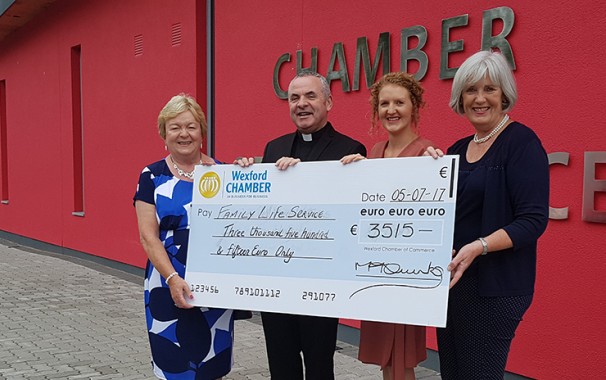 The Rotary Club of Wexford was presented with a Manchester United jersey by Wexford woman Teresa Grant when she visited us some months ago.  Teresa runs Trafford Council in Manchester and she made a very interesting presentation to Rotarians on what her job as Chief Executive entails and the interesting places it has taken her.
The Rotary Club Committee decided to donate this jersey to Wexford Chamber for help them raise funds for Family Life Services, the designated charity for their annual Business Awards Raffle. Members of Wexford Businesses were asked to dig deep for the charity raffle and they did not fail!
The charity raffle on the evening raised an impressive €3,515 for Family Life Service, who have been providing counselling support services within County Wexford for over 25 years to those members of the community who, in particular, are experiencing marginalization.
Madeleine Quirke, CEO Wexford Chamber commented "Family Life Service is very well respected for the service they have been providing in County Wexford for over 25 years.  We are delighted to be in a position to make a sizeable donation to this community based organisation which will prove to be a tremendous assistance to FLS".
Wexford Chamber would like to sincerely thank the Rotary Club of Wexford for their very valuable prize.  Other sponsors were Marlfield House Hotel & The Duck Terrace Restaurant, Ferrycarrig Hotel, Monart Destination Spa, Artist Paddy Lennon, the Wexford Food Family and Wallaces of Wellingtonbridge.