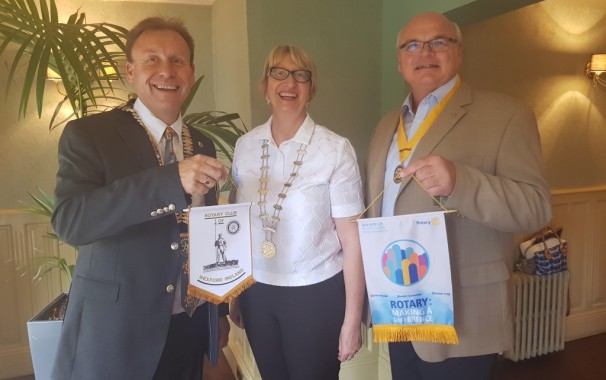 Garth Arnold, District Governor of Rotary Ireland, recently visited Wexford.  Maura Bell, President of the Rotary Club of Wexford, was delighted to have the opportunity to showcase Wexford to Garth and indeed to introduce him to the Members of the local club.  Over 40 members attended lunch in the Riverbank House Hotel where they enjoyed a very informative presentation on Rotary and where efforts will be focused over the coming years.
DG Garth Arnold, who is the 100th District Governor of Rotary Ireland,  will host a special conference later in September which will celebrate the centennial of the Rotary Foundation.  He believes that Rotary can make a difference to the people who need it most.  "The cumulative effect of humanitarian work is limitless.  It not only gives to the people in need, but it can bring you so much personally and professionally."
This is the basis upon which today's Rotary Clubs still exist. With over 100 years in Ireland, the organisation consists of 73 clubs across the country, north, south, east and west, made up of determined individuals from all walks of life who are pushing the boundaries of what can be achieved.
The Rotary Club of Wexford continues to thrive and is one of the most successful clubs in Ireland.  For further information on the Club and how to get involved please log on to www.rotarywexford.com