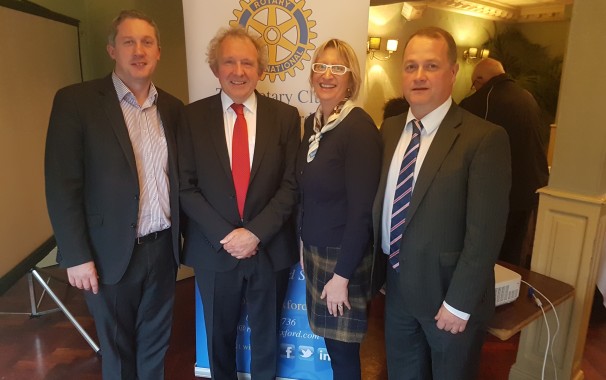 Richard gave a very insightful talk about his Grandmother Min Ryan, which the new park in Killeens will be named after.  Richard has donated €200,000 to the development of the park.
Richard, 59, grew up in Rathmines as the eldest of Risteard and the late Aileen's six children. He is the grandson of General Richard Mulcahy, former leader of Fine Gael, and Chief of Staff of the Irish Republican Army during the War of Independence. His father Risteard, now aged 93, was former head cardiologist at St. Vincent's hospital.
Richard retired for a few months until he realised he couldn't cope without working, and started getting involved in charity work, and mentored a couple of companies. He famously became involved in RTE"s Secret Millionaire programme, where he embedded himself in one of the most disadvantaged parts of Limerick to help people striving to improve their lives in the face of constant adversity. He agrees that not having money worries makes life easier, but believes much can be achieved by looking on the positive side of life, whatever your circumstances.
Mary Josephine ''Min'' Ryan
Min Ryan was born in 1885 in Tomcoole near Taghmon Co. Wexford. She was one of 12 siblings, four boys and eight girls, who were born and bred on the Ryan farm. The family has been traced back to the mid-1700s. She and her seven sisters were educated by the Loreto nuns in Co. Wexford and qualified as teachers after a third level education at the Royal University and later at the more recently established University College, Dublin.