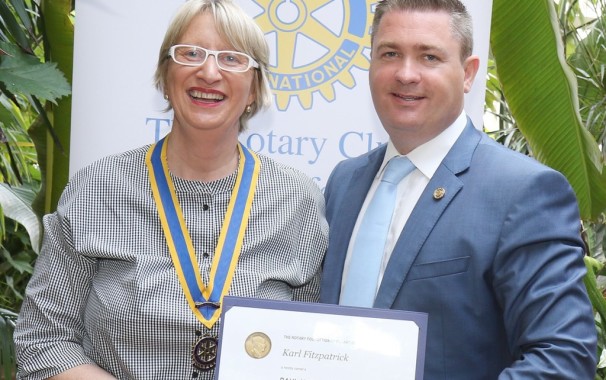 Accomplished entrepreneur, Karl Fitzpatrick, was announced as a recipient of a coveted Paul Harris Fellowship award at last Monday's meeting of the Rotary Club of Wexford.
The Paul Harris Fellowship Award is one of the highest honours Rotary can bestow upon an individual. The presentation of Paul Harris Fellow recognition is the Rotary Foundation's way of expressing its appreciation to individuals who demonstrate outstanding achievements in their community.
The Paul Harris Fellowship Award was bestowed on Karl due to the outstanding contribution which he has made to the Rotary's renowned Youth Leadership Development competition.
The Youth Leadership development competition recognises and celebrates the achievements and leadership qualities of students, between the ages of sixteen and eighteen. When presenting the award, Maura Bell, President of the Rotary Club of Wexford stated "We have the honour and pleasure today of recognising Karl Fitzpatrick's achievements, as he becomes a Paul Harris Fellow. We heartily congratulate Karl and thank him for his unwavering commitment to Rotary Foundation Youth programmes."
On joining the international Paul Harris Fellowship alumni, Karl stated "It is humbling to receive such a distinguished honour from Rotary International. My philosophy is that you make your living from what you get, but you make your life from what you give. Therefore I am delighted to be involved in an organisation that makes such a valued contribution to the youth in our community."