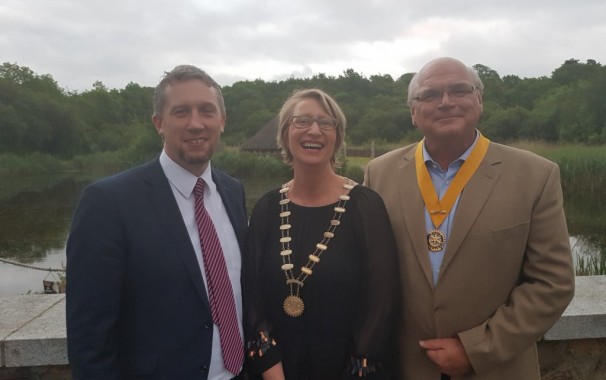 The Rotary Club of Wexford are delighted to welcome new President, Maura Bell.  Maura proudly accepted the Chains of Office from Niall Reck at a dinner which was held at the Irish National Heritage Park last Friday,  23rd June.  Niall stepped down after a very successful Presidency which saw the Club go from strength to strength.  A very popular President who brought great vibrancy to the Club.
Maura Bell, General Manager, Irish National Heritage Park, works tirelessly on behalf of Wexford and has boundless energy which no doubt will be channeled into the work she will undertake on behalf of Rotary.  Maura said "I am honoured to take on the  President of the Rotary Club of Wexford. Niall will be a hard act to follow but I promise to  continue to grow  the fantastic charity work that Rotary is involved with."
Thomas Huelswitt will support Maura in his role as the new Vice President of the Rotary Club of Wexford.
All Members who attended on 23rd June congratulated Maura and Thomas and wished them well for the coming year.